The Right Stuff
To modernize a bakery, Bud's Best Cookies learned that it takes the perfect combination of people, equipment and a little bit of fire.
---
What are cookies made of? When Bud Cason was a young boy, he discovered the magic of it all working in his aunt's bakery, Greg's Cookie Co., and he was hooked. "My dad thought it was the neatest thing that flour, sugar and shortening could come into a bakery in bags and boxes and go out as cookies in a cookie jar," said Al Cason, Bud's son and president and COO of Bud's Best Cookies in Birmingham, AL, which his father, now chairman, founded in 1991.
Those were simpler times, and today, the magic happens in a different way and on a much larger scale than by hand like they were at Greg's (which he eventually purchased from his aunt) all those years ago. In today's cookie production, automation is the status quo … then again, Bud's Best is a testament that people are still vital to the process.
Over the past two years, this bakery has invested not only in new technology to increase throughput and expand its production capabilities but also in a leadership team that is poised to take the business into the future.
More minis
While it produces several cookie varieties, Bud's Best is most known for its bite-size cookies, which the company developed nearly 30 years ago when the mini craze began. "My father was the first to have a full line of bite-sized cookies and build a business around it," Mr. Cason recalled. What started out as a trend reached ubiquity in the late-1990s, when minis proliferated ­everywhere from c-stores to big-box retailers.
Today, the bakery serves retail outlets in 40 states. "We also have a handful of customers who sell outside the US," Mr. Cason said.
The portion-control trend has worked in Bud's Best's favor, especially when snack sizes flourished in dollar stores and vending machines, where the company has found great success thanks to the product quality. "It's all about getting good cookies in smaller packs," Mr. Cason said. "People can still have something that takes care of that craving, something that tastes good, but they just eat less of it."
While the company's best-known products are its mini vanilla wafers — the operation can crank out at as many as 1.3 million an hour in the height of production — it also creates a variety of other cookies, including sandwich cookies and a large variety of wire-cut and -rotary cookies.
That versatility is something that has set Bud's Best apart from some of its bigger competitors. "We can do a lot of different things for different customers," Mr. Cason said, noting that some retail chains request cases with packaging as small as 6-packs up to 24-pack cases, thanks to grab-and-go trends. "We've seen a lot of requests for portion-control packs, pantry packs and smaller case packs over the past few years," he said. "You need to have a lot of packing stations to accommodate those."
This need was just one that prompted some big changes inside this 125,000-sq-ft facility. After investing more than $7 million in equipment upgrades and a line expansion, the bakery embarked on a two-year evolution that ultimately triggered the restructuring of Bud's Best leadership.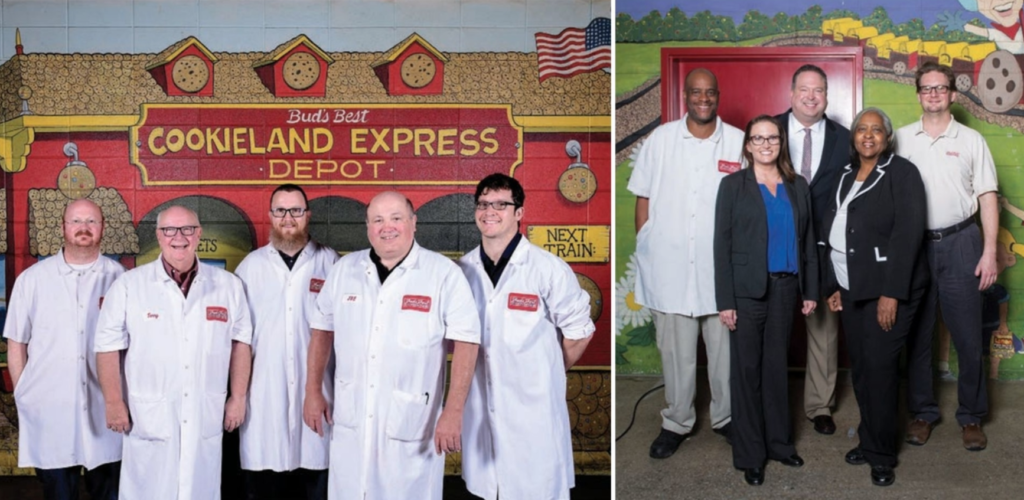 Tools for growth
Despite his love for cookies, when Bud Cason founded the company in 1991, he was on the rebound from selling Greg's Cookie Co. 5 years before, and he toyed with the idea of going in a different direction and starting a sugar wafer business instead. Although he decided to stay with cookies, his first love, he never let go of those sugar wafers.
A natural salesman, he got into the sugar wafer business through a Canadian co-­manufacturer. Eventually Bud's Best wanted more control over the production schedule during the summer — sugar wafers' busy season — and invested in its own line from Franz Haas, a division of Bühler.
After successfully installing the line, though, the bakery realized that making sugar wafers was very different from making cookies, and it needed a baker with expertise in the art of sugar wafer ­production. Bud's sent the business back to Canada temporarily and shifted its focus back to its cookie production.
To compete in high-volume cookie business, a bakery needs two things: speed and versatility. To achieve both, Bud's invested in an Advantech wirecut line and dual-zone tunnel oven on a fourth production line dedicated to vanilla wafers, as well as four Ishida scales that feed as many Rovema high-speed baggers that support all cookie lines.
The bakery also upgraded its ingredient handling systems, which consists of two sifters, one for flour and one for sugar (along with a sugar mill to grind powdered sugar for crème), from the Fred D. Pfening Co., in addition to the two existing flour silos and a sugar silo located outside. After sifting, the flour is transported directly to the mixers, while 10,000 lb of sugar can be held in the use bin.
After mixing, wirecutting Bud's Best vanilla wafers is a tricky proposition because the cookie starts out more like pancake batter than cookie dough. The batter is transported from the mixer through a pipe and is pumped through a series of cups on a die roller. As it's squeezed from the cups, the wire cuts it.
The roller on the Line 4 wirecutter is larger than the other lines — 10 in. as opposed to 7 in. — and is servo-controlled, another upgrade from the older lines.
The speed of the roller and the size of the cups determines the size of the cookies, which were minis at the time of Baking & Snack's visit. "We can run large wafers and bite-size," Mr. Cason said.
While some cookie manufacturers determine their product viability on a minimum of $10 million in sales per year, Bud's has the flexibility to pick up those smaller accounts, especially now with the new baggers. "That's our wheelhouse," Mr. Cason said. "We can get in there and be competitive in national accounts because with these baggers, we have the flexibility to do different case packs, multiple units or pantry packs."
The goal of purchasing and installing a new oven and baggers was to increase output and flexibility. Bud's Best is now able to run a mix of flavors, package sizes and case configurations simultaneously. "What we tried to accomplish when we did this installation was to eliminate, 'We can't do this because of that,' " Mr. Cason explained. "We asked ourselves, 'If we put in another oven and the baggers, can we more easily schedule whatever we need to?' The Answer was, 'Yes.' This will really free us to do a lot of different combinations that we weren't able to do in the past."
That said, the bakery learned a valuable lesson during the cookie and sugar wafer equipment installations: Automation can make life easier, but it's only a piece of the puzzle. There are two sides to every coin, and — like in the sugar wafer room — installing state-of-the-art equipment can only take an operation so far without the right people to develop the products and run the lines.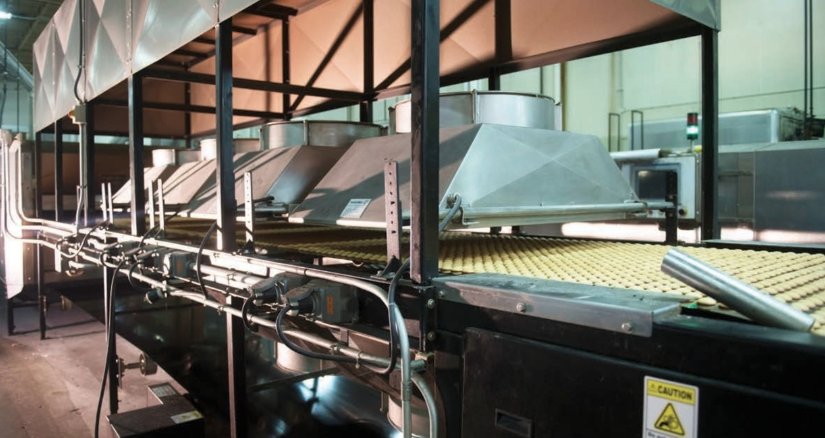 The need for expertise
Throughout his career, Mr. Cason heard a resounding piece of advice from his father: "You've got to have fire in your belly."
And over the past few years, he has learned that a bakery can invest all the money in the world into the most advanced equipment, but if the workers don't have that fire, success remains only a desire.
Remember that sugar wafer line? It sat dormant for a few months, leaving Bud Cason to question his decision to follow that dream. But the bakery contracted Bruce Linkletter, an industry veteran with years of sugar wafer experience to help restart the line, and Mr. Linkletter introduced Rob Myers, a former colleague and up-and-comer in sugar wafer production, to the company.
"We had to shut the line down, but we had all this money tied up in it, and we wanted to see it work," Mr. Cason said. "But you have to have somebody who knows how to run it." Mr. Myers was a match. And today, he is the sugar ­wafer director for Bud's Best.
The thing about sugar wafers is that there are less than a handful of lines actively dedicated to their production in the US. It's not a complicated process, but it's a delicate one. "Sugar wafers are a lot less forgiving than just about every other product you can run," Mr. Myers said. "There's not a lot to the shells, so if you don't get the structure just right, it won't work the rest of the way through the line."
They're created with a little batter and a lot of crème, so the batter's viscosity and temperature are critical. "As long as the shells are good, as long as you've got the right viscosity in the batter, the temperature is good and you're not over-baking, the process runs smoothly," Mr. Myers explained. "But if you have any of those things not in line, the shells will be too fragile and really flaky, and when they go through the spreader for crème application, they'll want to break."
From the depositing of the batter onto the griddle plates, through the baking and then spreading the crème, Mr. Myers oversees the line on a strict process. "There's not a lot to it, but you have to follow the process," he said.
A key component is in making sure the crème holds the wafers together without weighing them down, and that's done through cooling, which runs the sheets through the cooler for about 11 minutes, which gives the crème time to set up. "When you make the crème, you melt the shortening, so you've got to get those fats to recrystallize in the right form so you have hard crème when it comes out the other side," Mr. Myers explained.
He also understands the importance of the equipment properly aligning the stacked wafer sheets as they go through the wirecutter, and it all starts at the beginning. "If the shells aren't square because the batter didn't spread far enough, or if you lose some of the corners on the shells or if the middle gets chewed away, they won't line up back-to-back, and when the pusher pushes the front row, it will grab the row behind it."
This level of expertise was a game-changer, according to Mr. Cason. Before Mr. Myers, these types of issues and problems with overweights and bowed product were not uncommon, which led to putting the line on hold. "The product wasn't right," Mr. Cason said. "The quality wasn't right."
Now, the sugar wafers are running smooth as the crème in their layers. Mr. Cason credits Mr. Myers, not only for his attention to the line but also for the ways in which he elevated morale in this area of production.
"Dad was fortunate enough to have a lot of good people in the past," Mr. Cason said. "But that was the past. This is a new workforce, a new environment. You have to have different skillsets than the old management philosophy."
After Mr. Myers joined Bud's Best, the company recruited his brother, Scott Myers, to manage the first shift for the cookie business and Terry Helms as vice-president of manufacturing in addition to Joe Tampio, who has served as general manager for several years.
"Terry's got a ton of experience with equipment and baking; that's one of the reasons we hired him," Mr. Cason said. "We needed somebody who could be a steady hand that we could trust, someone who knew equipment and knew manufacturing and who could bring the culture back."
The hire was no coincidence; the Myers brothers and Mr. Helms previously worked together for Lance at the Charlotte, NC, plant, and they brought a culture of camaraderie to Birmingham. "The big focus has been on trying to build a team and get morale back," Mr. Cason said.
"The equipment is great, but it takes a certain kind of person to make sure the doughs are right, to make sure the productivity is right, scrap is down and the labor is where it should be," he added. "Now, my father and I can go out and sell — and deliver — a quality product on time, every day. You need a certain level of expertise to do that, and we have that now."
New people, new products
Baking is a marriage of art and science. It's a combination of formulation and processing and a marriage of people and machines. These are the concepts driving Bud's Best product development as the company looks to the future.
"We focused on the value arena for so long that we're ready to get outside of that with some new quality offerings and different configurations of things we've done in the past," Mr. Cason said.
Now that the sugar wafer line is running without a hitch, the bakery is working on developing new varieties of this vintage product. At the Sweets and Snacks Expo, held May 21-23 in Chicago, the bakery displayed two sugar wafer sour flavors made with Pucker Powder. "We're looking at doing some more niche things on this line," Mr. Cason said. "We have some interesting things coming down the pike that could be well suited for a specialty sugar wafer operation."
And under the Bud and Al's Signature brand, the bakery launched a line of "thins," similar to Uncle Al's stage planks, an old item from the company's early days. "We have people call and tell us they remember the planks from their childhood," said Jamey Helton, vice-president, finance.
The thins come in two flavors — chocolate and coconut — and are wrapped two thins to a pack. "[Bud and Al Cason] have taken them to a couple of tradeshows recently, and they've done fantastic," Ms. Helton noted.
As the bakery builds its management team and expands production capabilities, it's ready to launch new ideas.
"There are many opportunities out there with all we can produce," Mr. Cason said. "We work with different companies on different ideas. We're all ultimately working retail, and we're selling to the same types of stores. But different people have different relationships with companies; if we put our heads together, maybe we can come up with some ideas that would be good for us all."
To achieve this, Bud's Best recently hired Kevin Rackham as director of quality and R&D. "Kevin comes to us with a tremendous amount of R&D experience," Mr. Cason said. "He's a formulator. He's a quality guru. He's always thinking and not afraid to come up with new formulas."
Looking toward the future
It's true that the best laid plans of mice and men often go awry. Projects rarely have the ending they were expected to, but in many cases, serendipity prevails.
Through pauses, setbacks and a number of changes, Bud's Best Cookies' installations set the bakery on a course toward future growth, thanks to the team it was able to build along the way.
"Al will lead this company into the next phase," Ms. Helton said. "And I plan to be there behind him, helping with that charge. We learned a lot through these installations — not so much the mechanical knowledge or how to work the equipment — but in how to be involved. It helped prepare us for the future."
Putting new leadership in place now will also help the company navigate the workforce gap currently happening in the baking industry. "It's hard to find younger people who are in — or even interested in — the baking business. There are a lot of people out there, but they don't have a lot of experience. To find people who are real bakers and know this industry is tough," Mr. Cason said.
He sees the team as truly a gift for present production and the long-term future. "It's been a real win," he said. "With this team, our quality has improved, our productivity has gotten better and the scrap has come down. All those good metrics are starting to happen because of this team."
Bud Cason spoke of having the fire in the belly, that passion. And though the past couple years brought its ups and downs, Bud's Best is on a path to success. "We've got the horsepower with the extra equipment — the new baggers, scales, oven, wirecutter and the sugar wafer line — and a staff who can take care of what Dad and I are out there selling," Mr. Cason said.
The fire is ablaze for the whole team.
"Whether it's people, equipment or the changing market, we are now on different footing," Mr. Cason said. "We've got the equipment in and the best staff we've ever had. We've weathered some storms, and we got through them. We now have a group of people who will propel Bud's Best like never before. I believe that." And that's what cookies are made of.
The magic of tray loading
At Bud's Best Cookies, flexibility is the name of the game. This bakery manufactures cookies ranging from large and bite-size vanilla wafers to standard and bite-size sandwich crèmes and a large variety of wire-cuts and rotary cookies on four production lines, in addition to sugar wafers made on a separate line.
Creating this many varieties — in seemingly countless packaging configurations — makes the conveyors that feed the creaming and packaging areas look more like a space-age highway infrastructure than a cookie factory. It also requires a high level of strategy to get the right products to the proper places and the right times, often depending on the season.
"To do some of the magic we do here, we rebuilt an old tray loader so that in the summertime, we can run Line 3 exclusively for ginger snaps we make for a private label customer," said Al Cason, president and COO.
But during those months, the operation needed to reassign its other cookie production to compensate for that line. "We rebuilt the tray loader and built a takeoff conveyor that takes those cookies so we can run standard-size wirecuts on Line 1 in the summer and run it through the tray loader," he explained.
Now that the fourth cookie line installation is up and running, next on the horizon for Bud's is to develop a plan to further engineer all four lines to streamline the efficiencies even more.
One connection can chart a company's course
These days, employee turnover is a common problem in bakery plants. And while automation can accommodate for a lack of labor, there's another side to that coin. Not having the right expertise in a plant can make for a challenging installation.
That's what happened at Bud's Best cookies when the company installed a sugar wafer line and fourth cookie production line in 2017. So, Al Cason, president and COO, turned to a friend, Bruce Linkletter, a consultant with a lot of experience with sugar wafer production. While Mr. Linkletter helped get the line running, he also introduced the company to his former colleague and close friend Rob Myers, who would become Bud's Best's sugar wafer director.
"Bruce told me, 'Rob Myers will be the best person you can get, not only for this position but also for your company. I know him, and I know what he's made of. Rob could come in and help sugar wafers, and it will help your entire operation by having somebody like him,'" Mr. Cason recalled. "I had never heard an endorsement like that until I heard Rob tell me about his brother," he added. Mr. Myers' brother, Scott, joined Bud's Best in 2018 as shift manager. And shortly thereafter, Terry Helms, who had also previously worked with Mr. Linkletter and the Myers brothers, came on board as vice-president of manufacturing. Today, Scott Myers is production superintendent.
"Our leadership team — and company culture — has come light years in a short amount of time," Mr. Cason declared. And he credits it all to the call he made to Mr. Linkletter.
Shortly after he left the sugar wafers in Rob Myers' hands, Mr. Linkletter was diagnosed with stomach cancer. He passed away earlier this year.
Mr. Cason said he will never forget what Mr. Linkletter's work ethic and strong industry relationships did to chart the course for Bud's Best to sail smoothly into the future. "It was because of Bruce that we found Rob, who recognized challenges that his brother could help us with," he said. With the Myers brothers, the addition of Mr. Helms and with the expertise of Joe Tampio, general manager, Bud's Best has its leadership dream team. "And it all spawned from Bruce," Mr. Cason attested. "He was a true gentleman and friend."
---
Written by: Joanie Spencer | bakingandsnack.com | Digital Magazine